HeMo Bioengineering Limited (the "Company" and collectively with its subsidiaries, "HeMo") offers innovative neuro- and peripheral interventional medical devices to improve the health and quality of life of patients in China and the broader Asia-Pacific region.  Our comprehensive portfolio of neuro-interventional medical devices covers the ischemic stroke, hemorrhagic stroke and neuro access fields.  In China, we are a leading provider in terms of the types of products for mechanical thrombectomy for ischemic stroke, and we also pioneered Afentta® – the first domestic aspiration catheter to be approved by the National Medical Products Administration and commercialized.
HeMo's peripheral interventional medical devices cover both vascular and non-vascular interventions.  Our proprietary, one-of-its-kind Privi hemorrhoid cooling balloon is a self-administered medical device that employs only physical mechanisms to alleviate the symptoms of internal and mixed hemorrhoids, eliminating the need for medication or ingredients that may be associated with side effects.
Headquartered in Singapore, our current businesses are principally based in China where we have established R&D and manufacturing facilities in Weihai and offices in Beijing and Shanghai.  Our global R&D resources also include R&D centres in Singapore and the U.S. as well as a network of key opinion leaders and industry experts.  We were founded by our Chairman, CEO and CTO Dr. Jack Wang, an industry veteran and seasoned entrepreneur who previously served as CEO for both Biosensors International Group and JW Medical Systems.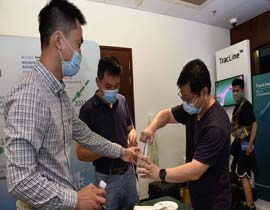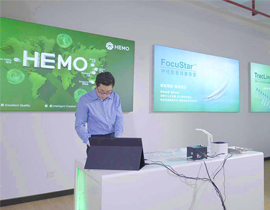 We are committed to developing and providing innovative interventional medical devices to patients to improve their health and quality of life.
– Our Company was incorporated
– In-licensed technologies of our Privi hemorrhoid cooling balloon and obtained an exclusive license to develop and commercialize it in China
– Completed our Series A financing and raised a total of US$27 million
– Completed clinical trial on human subjects for our Privi hemorrhoid cooling balloon

– Commenced clinical trial for our HMC1-NAS aspiration catheter
– Obtained the Class III medical device certificate from the NMPA for FocusLine® balloon dilation catheter
– Completed our Series A+ financing and raised a total of approximately US$11.5 million
– Obtained the Class III medical device registration certificate from the NMPA for TracLine® access catheter and commercialized the product
– Commenced clinical trial on human subjects for our stent retriever
– Completed our Series B financing and raised a total of US$50 million
– Obtained the Class III medical device registration certificate from the NMPA for FocuStar® neuro balloon catheter – Rx
– Completed our Series C financing and raised a total of US$50 million
– Obtained the Class II medical device registration certificates from Shandong MPA for our Privi hemorrhoid cooling balloon and neuro aspiration accessory
– Commercialized our FocuStar® neuro balloon catheter – Rx
– Obtained the Class III medical device registration certificate from NMPA for Afentta® aspiration catheter and commercialised the product
– Obtained the Class III medical device registration certificate from NMPA for Mountix® micro catheter